Out of concern for the welfare of our community, all in-person group activities at B'er Chayim Temple have been suspended while COVID-19 is affecting our area – but we are continuing programs online.
To access Facebook Live, "Like" B'er Chayim Temple Facebook page to get notified when to watch the service.
To access Zoom, download the app to your smart phone, tablet, laptop or computer from the App Store. Press the join link and input the specific Meeting ID, which will be provided on an activity by activity basis.
Rabbi Perman Responds to COVID19 Crisis
This is a difficult time for many. Whether it's the fear of getting sick or the sense of isolation that comes from "social distancing", we find ourselves struggling to maintain a sense of calm, connection to others, and faith that the one God of Israel will keep us safe.
When we turn to our tradition we see numerous examples of our rabbis and Jewish communities of old rising to the occasion when faced with the close proximity of disease or plague. In one example, a famous rabbi in Russia stood before his congregation, made motzei (the blessing over the bread) and ate challah on Yom Kippur. Why you might ask did he do this because it is a sin, of course, to eat on the most important fast day of the year?  Well food was very scarce at the time and the people in the village were hungry. The rabbi was teaching his flock that any and all Jewish laws could be broken in order to preserve health and well being. Similarly at this time we make many sacrifices and alter our routines in order to put life and health first. So if schools must be closed temporarily, religious services postponed, and other staples of our society altered, we do so because the preservation of life and health is most important.
I want to let you all know that I am here during this time of uncertainty for no matter what anyone may need. If you want to talk or require any other kind of support or spiritual comfort please let me know. You can reach me via email at mperman@berchayim.org or on my cell phone. That number is 860-212-5668.
Be well and know that we Jews along with our brothers and sisters from other traditions and faiths stand together during this difficult and challenging time. We ask for the support of our loving God and guidance from the angels of peace and mercy who have protected our people and have helped us persevere for countless generations.
B'Shalom,
Rabbi Mark Perman
Welcome to B'er Chayim Congregation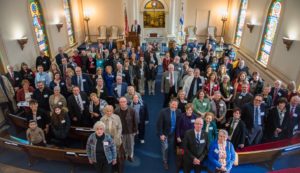 We are proud to be one of the oldest Congregations in Maryland, and have the oldest continuously operating Temple building in the state. Our building is over 165 years old, as is our congregation. With a membership of about 45 families it is a tight-knit congregation with congregants ranging from 5 months to 100 years of age. As a result of our small size, new members are welcomed into the fold quickly and are able to be as active as they are willing and able to be.
We are a member of the Union of Reform Jews. Our history of affiliations has varied over the years however, ranging from Orthodox when first chartered in 1853, through classical reform in the late 1800 and early 1900's, and finally merging with Beth Jacob Synagogue (a Conservative Shul) in 1998. Our services are respectful of each tradition, incorporating both conservative and reform styles of worship.