Welcome to B'er Chayim Congregation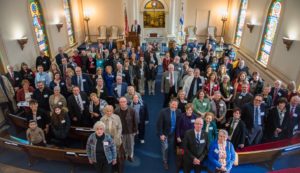 We are proud to be one of the oldest Congregations in Maryland, and have the oldest continuously operating Temple building in the state. Our building is over 165 years old, as is our congregation. With a membership of about 45 families it is a tight-knit congregation with congregants ranging from 5 months to 100 years of age. As a result of our small size, new members are welcomed into the fold quickly and are able to be as active as they are willing and able to be.
We are a member of the Union of Reform Jews. Our history of affiliations has varied over the years however, ranging from Orthodox when first chartered in 1853, through classical reform in the late 1800 and early 1900's, and finally merging with Beth Jacob Synagogue (a Conservative Shul) in 1998. Our services are respectful of each tradition, incorporating both conservative and reform styles of worship.
2019 High Holidays

Selichot   
Saturday, September 21
6:00 pm          Community Pot Luck – Spaghetti for main, bring sides/desserts
7:00 pm          Havdalah Service
7:30 pm          Selichot Service
Rosh Hashanah
Sunday, September 29       
7:30 pm          Erev Service
Congregational Rosh Hashanah Reception following
Monday, September 30
10:00 am-noon          Rosh Hashanah Service
3:00 pm                  Taschlich  – Pedestrian bridge over Will's Creek/Canal Place
Tuesday, October 1
10:00 am-noon         Second Day Service
Sunday, October 6
2:00pm-3:00pm       Memorial Service – East View Cemetery
Yom Kippur
Tuesday, October 8
7:00 pm-9:00 pm    Erev Yom Kippur   
Wednesday, October 9
10:00 am-1:00 pm   Yom Kippur Morning
3:00 pm-6:00 pm     Yom Kippur Afternoon
5:00 pm  aprox.       Yizkor
                              Break-the-fast following services conclusion
Saturday, October 12
6:00 pm                 Build our Sukkah with refreshments
Sunday, October 13
6:00 pm                  Erev Sukkot
Friday, October 18
7:30 pm                   Combined Shimini Atzerat/Simchat Torah/Shabbat Service