Welcome to B'er Chayim Congregation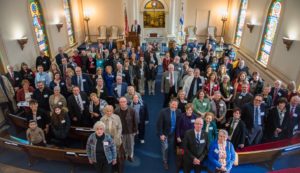 We are proud to be one of the oldest Congregations in Maryland, and have the oldest continuously operating Temple building in the state. Our building is over 165 years old, as is our congregation. With a membership of about 45 families it is a tight-knit congregation with congregants ranging from 5 months to 100 years of age. As a result of our small size, new members are welcomed into the fold quickly and are able to be as active as they are willing and able to be.
We are a member of the Union of Reform Jews. Our history of affiliations has varied over the years however, ranging from Orthodox when first chartered in 1853, through classical reform in the late 1800 and early 1900's, and finally merging with Beth Jacob Synagogue (a Conservative Shul) in 1998. Our services are respectful of each tradition, incorporating both conservative and reform styles of worship.
Pittsburgh Thoughts
Service Tuesday, October 30, 2018    6:30 pm
As we all come to terms with the terrible events that occurred at The Tree of Life Synagogue in Pittsburgh last Shabbat, I wanted to share with you a letter from Rabbi Rick Jacobs who is the president of the Union of Reform Judaism. It expresses how many of us are feeling as we come to terms with the terrible loss of life, the suffering of the wounded and their families and the fact that one never knows where a murderous and crazed gunman will strike next.
We offer our unequivocal support to our brothers and sisters in the Pittsburgh Jewish community and we pray that one day there will be an end to senseless and gratuitous violence within our country, and across the globe.
To honor the memory of the victims and to pray for healing, we at B'er Chayim Congregation will hold a special service this Tuesday night at 6:30P in the sanctuary. It will be open to all members of the community and it will give us time to process, to share our feelings, and to pray that one day, there will be a better world where this type of horrific act of terror will be a thing of the past. All are invited…..
B'Shalom,
Rabbi/Cantor Mark Perman
______________________________________________________________
From Rabbi Rick Jacobs:
After the Tragedy at Tree of Life – Or L'Simcha Synagogue
With broken hearts, and fierce determination, I write on one of the darkest days in American Jewish history: the first murder of Jews in their own house of worship. We are all hurting today, and trying to make sense of the horrific and deadly attack on Tree of Life – Or L'Simcha Synagogue in Pittsburgh.  I share with you my official statement on behalf of the Union for Reform Judaism:
The slaughter of our brothers and sisters praying in their holy synagogue this Shabbat in Pittsburgh breaks our collective heart. The murders took place during a prayer service in the Tree of Life congregation where, like synagogues all around the world, they were reading from Genesis recounting how Abraham welcomed perfect strangers into his tent. How painful and ironic that we live in a time when we have to temper our loving welcome of strangers as we protect our communities from violence and hate.

There is much which is unknown about today's horrific killings. We will learn more over the next hours and days. We will continue to work with our nation's synagogues and other houses of worship and law enforcement to enhance security and provide effective protections for our communities – and our nation.
This time the Jewish community was targeted, in what may be the worst anti-Semitic attack in American history. Other times it has been African-Americans. Or Sikhs. Or Muslims. Or members of the LGBTQ community. Or too many others. What we know is this: the fabric holding our nation together is fraying. It is our task to ensure that it does not come apart.  We mourn as one people along with all people of conscience.
Even as we wait to learn all the brutal facts, we know that we must always keep moving forward. Of course, we will be in touch regarding actions to take in the days to come.
Praying for Shalom, for peace, for wholeness,

Rabbi Rick Jacobs
President, URJ
_____________________________________________________________
Dear Congregants,
Betsey and I came home from a Jewish Heritage tour of Eastern Europe to the news of the tragedy at the Tree of Life congregation in Pittsburgh. Our hearts go out to the families of those killed and injured and for the entire Pittsburgh community. It is unconscionable to think that Jews could be targeted during a worship service on Shabbat, and it is equally unthinkable that this could happen in the United States in this day and age. We are lucky that we have not been the victim of much anti-Semitism here in Cumberland.
We all need to be vigilant and pay attention to our surroundings but not let this stop us from coming to Temple. Perhaps coming more often will not only comfort you but also your fellow congregants.
Doug Schwab
President, B'er Chayim Temple