Welcome to B'er Chayim Congregation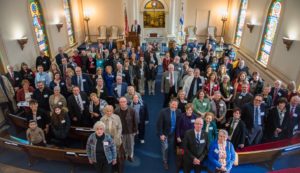 We are proud to be one of the oldest Congregations in Maryland, and have the oldest continuously operating Temple building in the state. Our building is over 165 years old, as is our congregation. With a membership of about 45 families it is a tightly-knit congregation with congregants ranging from 5 months to 100 years of age. New members are welcomed into the fold quickly and can to be as active as they are willing and able to be.
We are a member of the Union of Reform Jews. Our history of affiliations has varied over the years, however, ranging from Orthodox when first chartered in 1853, through classical reform in the late 1800s and early 1900s, finally merging with Beth Jacob Synagogue (a Conservative Shul) in 1998. Our services are respectful of each tradition, incorporating both conservative and reform styles of worship.
Our Virtual World
Out of concern for the welfare of our community, all in-person group activities at B'er Chayim Temple are suspended while COVID-19 is affecting our area.  We will continue to broadcast our services via Zoom, and Adult Hebrew and Adult Education classes will be conducted via Zoom. 

Zoom can be used on your smartphone, tablet, laptop, or computer. Press the join link and input the specific Meeting ID and password which will be provided for events. A phone number is provided as well, if participants prefer to call in.

If you need a Shabbat prayer book, you may borrow one from the Temple. If the book is not returned or is returned damaged, you will be billed for the replacement.
Contact for Zoom login, prayer books or other questions:
Rebecca Galliher in Temple office – admin@berchayim.org 
Cantor Bessman – rbessman@berchayim.org
Temple phone: 301-722-5688

Our Spiritual Leader
Cantor Richard Bessman comes to us most recently from Fort Myers, Florida, where he served a Reform congregation.  Cantor Bessman graduated from the Jewish Theological Seminary in New York, a Conservative institution, with Master of Sacred Music and Certificate of Hazzan and Master of Arts in Jewish Education, with honors.  He has held full-time cantor pulpits in Reform congregation and many High Holy Day cantor positions in both Conservative and Reform settings, making him comfortable in both communities.
Even though our services are being conducted via Zoom, Cantor Richard has successfully shared his love of Jewish tradition and his delightful musical talent in a way that is meaningful and enjoyable to our congregation and community. We are grateful to be able to celebrate and worship together virtually, and to have Cantor Richard with us.