Welcome to B'er Chayim Congregation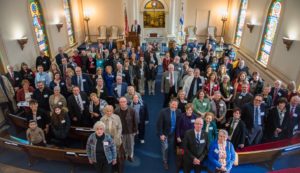 We are proud to be one of the oldest Congregations in Maryland, and have the oldest continuously operating Temple building in the state. Our building is over 165 years old, as is our congregation. With a membership of about 45 families, it is a tightly-knit community with congregants of all ages. New members are welcomed into the fold and can be as active as they are willing and able to be.
We are a member of the Union of Reform Judaism. Our history of affiliations has varied over the years, ranging from Orthodox when first chartered in 1853, through classical reform in the late 1800s and early 1900s, before merging with Beth Jacob Synagogue (a Conservative Shul) in 1998. Services are respectful of each tradition, incorporating both conservative and reform styles of worship.
Prayer Book Link
The link below will take you to Mishkan T'Filah for Shabbat, formatted as a flipbook. Click here for a flipbook  introduction.


Our Virtual World
Once again, we are enjoying in-person services at B'er Chayim, as we continue to use Zoom for those who are unable to personally attend. Please see this week's Shabbat Update and the April Bulletin for more information.
Zoom can be accessed on your smartphone, tablet, laptop or desktop computer. Press the "join" link and input the specific Meeting ID and password which will be provided for events. A phone number will also be provided if participants prefer to call in.
We use Mishkan T'filah for our Shabbat services. Please feel free to borrow one from the Temple or use the Prayer Book Link on this page.
For Zoom login, prayer books or other questions, contact:
Rebecca Galliher in Temple office at admin@berchayim.org or  
301-722-5688.

Current Schedule (now in-person and/or via Zoom)