Welcome to B'er Chayim Congregation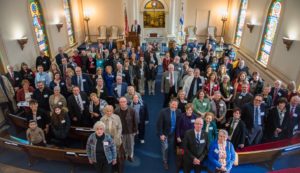 We are proud to be one of the oldest Congregations in Maryland, and have the oldest continuously operating Temple building in the state. Our building is over 165 years old, as is our congregation. With a membership of about 45 families it is a tight-knit congregation with congregants ranging from 5 months to 100 years of age. As a result of our small size, new members are welcomed into the fold quickly and are able to be as active as they are willing and able to be.
We are a member of the Union of Reform Jews. Our history of affiliations has varied over the years however, ranging from Orthodox when first chartered in 1853, through classical reform in the late 1800 and early 1900's, and finally merging with Beth Jacob Synagogue (a Conservative Shul) in 1998. Our services are respectful of each tradition, incorporating both conservative and reform styles of worship.
Rabbi Perman's Shabbat Update
At this Friday's service we'll be reading from and studying parsha Noach and the famous flood story where God determines that it is time to destroy the earth and start over. So much evil is there in the world that God apparently has no other alternative but to start from scratch.

But Noah whom God considers "righteous in his time" and his family are spared so that life might renew itself in a cleansed world. Notice that Noah is not particularly righteous either…. but he is compared to everyone else at that time.

There are parallels I think between this portion and The Washington Post report the other day which suggests that we may have sewn the seeds of our own destruction. Climate change, despite Mr. Trump's claim to the contrary, is a very dangerous phenomenon and indicates that we may have done more damage to the planet over time than we wish to acknowledge. Might there be a metaphor here between the evil that existed on the earth leading to the flood and the evil that exists on the earth today leading to severe climate change?

We'll discuss this issue in more depth at the Shabbat service this Friday night at 7:30. All are invited as we make Shabbat a time of holiness, peace, and self reflection. Let our world be healed and the challenges of climate change overcome. Amen
Shabbat Shalom.
Rabbi Mark