Welcome to B'er Chayim Congregation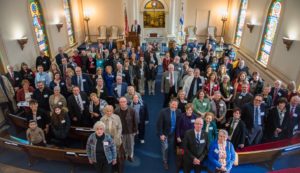 We are proud to be one of the oldest Congregations in Maryland, and have the oldest continuously operating Temple building in the state. Our building is over 165 years old, as is our congregation. With a membership of about 45 families it is a tight-knit congregation with congregants ranging from 5 months to 100 years of age. As a result of our small size, new members are welcomed into the fold quickly and are able to be as active as they are willing and able to be.
We are a member of the Union of Reform Jews. Our history of affiliations has varied over the years however, ranging from Orthodox when first chartered in 1853, through classical reform in the late 1800 and early 1900's, and finally merging with Beth Jacob Synagogue (a Conservative Shul) in 1998. Our services are respectful of each tradition, incorporating both conservative and reform styles of worship.
2018 High Holiday Schedule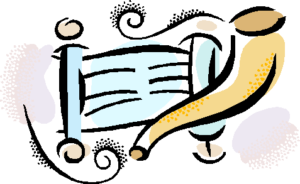 Saturday 9/01   8:00 pm S'lichot Service
Sunday 9/09   7:30 pm Erev Rosh Hashanah
Monday 9/10
     10:00 am Rosh Hashanah Morning
     3:00 pm Tashlich – location tba
Tuesday 9/11 12 noon Rosh Hashanah Study
Friday 9/14   7:30 pm Shabbat Shuva Service
Sunday 9/16   2:00 pm  Memorial Service – Eastview Cemetery
Tuesday 9/18   7:00 pm Kol Nidrei and Erev Yom Kippur Service
Wednesday 9/19
     10:00 am   Yom Kippur Morning Service
     3:00 pm   Afternoon Service
     4:00 pm   Yizkor Service
     5:00 pm   Nilah (closing) Service 
     6:30 pm   Break the Fast and beginning building the Sukkah
Rabbi's Shabbat Update
At this time with the High Holy Days only days away, we should be engaging in a practice known as Cheshbon Hafefesh. You may ask what that is.  Well, it is an accounting of the soul. As Rabbi Mendy Kaminker, who is a Chabad rabbi from New Jersey, points out cheshbon hanefesh refers to an accounting of the soul. It is not however the kind of accounting that goes into analyzing a balance sheet or one that is quantifiable with numbers.

Rather it is a process that means we look into our heart and soul and see where we are this year vs last year. How have we fared in terms of work
and professional relationships, personal relationships, our search for a divine connection and, perhaps most important, how have we managed to deal with ourselves? Have we been true to ourselves or have we compromised that inner truth in order to conform to others expectations?
This Friday night our service will be simple and reflective. There will be more time for self reflection and meditation. We will study a bit about the upcoming holidays and listen to some of the nusach (the improvisational modes) for the High Holidays as well. I hope to see you at services as we get ready together for our yearly tradition called, for a reason, the Yamim Noramim, "the days of awe".  Let us live each day with awe and   excitement, thankful to God for the blessings of life and a chance to make a difference.
Goods and Services Auction