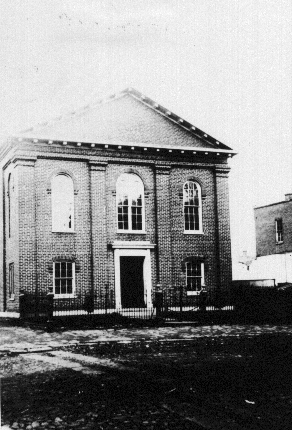 Just when the first Jew came into this region cannot be established. In a letter to his brother, George Washington acknowledged the receipt of a ham, which he placed in the "safe" care of a Jewish soldier. By 1853, 12 Jewish families were know to be in Cumberland, which had a population of 6510. On April 27th of that year, this small group met to formalize their community. On May 23, 1853, the Legislature of Maryland passed an act incorporating "Baair Cheiim" Congregation and created its Charter.
B'er Chayim began as an Orthodox congregation but soon tended towards a more Reform type of service. The Congregation joined the Union of American Hebrew Congregations (UAHC) in 1905 and adopted the Union Prayer Book in 1907. A small group split off in 1925, creating Beth El Congregation. The two congregations rejoined in 1934.
Over the ensuing years there were merger discussions with Beth Jacob, the Conservative synagogue in Cumberland. This merger was achieved in 1998 at which time the Torahs, memorial tablets and other Jewish objects were transferred to B'er Chayim. The combined congregation has prospered and maintained an average membership of 75-80 family units. In 2003 B'er Chayim celebrated its 150th anniversary. At that time a 150th Anniversary History was published, excerpts of which are located in the period specific sections of this menu item.